With our motley squad of thinkers, tinkers, illustrators, sketch artists, motion graphic specialists, and web weavers, we, at MYNDROOT, aim to be one of the best ad agencies in India with headquarters in Kolkata and roots spreading all over Chandigarh and Zagreb. With a strong focus on being a top-performance marketing agency that designs and executes creative concept-based campaigns, our strategies elevate a brand's holistic value and enable both existing and new businesses to sustain through market irregularities and yet grow rapidly.
We offer services ranging from creative designs, brand strategy, website development, SEO, audience targeted influencer marketing to TV commercials and social media marketing, which in combination allows us to cover the entire spectrum of a brand's marketing strategy. We traverse the latest nuances of traditional advertising, social media marketing, e-commerce website development, digital marketing services, online reputation management, and other advertising and marketing-related segments, through the process of intensive groundwork, precise case studies, and carefully crafted project or campaign planning.
Our strength lies in harnessing the creativity of the team members and leveraging their advertising expertise, in order to consistently deliver outstanding creative concepts and communication.
Minds Of All Kinds
We are a strange brew of advertising greybeards & creative hot-rods; tinkering with varied products and services has opened our door to the world of advertising wider, exposing us to its many adventures.
Design Thinking
At Myndroot, we strictly adhere to design principles and believe that there is no set standard for design solutions and serving as per need is the way forward in this brave new world of advertising. We believe that advertising is not an art form but a message.
In-house Click/Click
We have an in-house studio at Myndroot, for photoshoots & an audio-visual set-up along with on-call DOPs, models and other crew members as per the project requirements. 
Rooted in Relationship
Service first is our primary focus and we offer a dedicated service desk & relationship manager for all our clients. 
Speed Is Us
We love deadlines and follow strict TAT for all our project assignments. 
Hold Our Hand
We also offer support with printing, fabrication, event management, brand collaboration, celebrity management and endorsements, media buying etc., as per the need of the project.
Free Brand Audit
Get a quick report
We are a modern-day business consulting firm doubling up as a full service creative agency with diverse experience and in-depth knowledge about the current market, brand architecture, and consumer psychology. We transform your "Problems into Unique Opportunities". So, if you have a project, an existing brand, or are planning to launch a new business, share your details with us – we will take it up, study further, give you a detailed report and suggest an attainable course of action.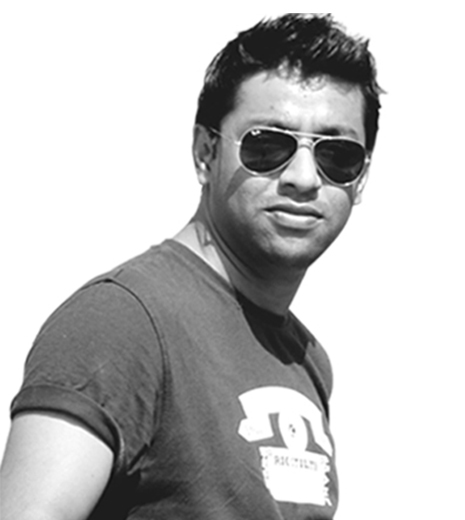 Subhajit Ghosh
Co-Founder & Business Director
Ankit Bhattacharyya
Co-Founder & Creative Director
Mayank Jagwani
Managing Partner
Deb Pratim Das
Brand Manager
Nikola Percic
Business Lead (Croatia)
Tanu Saha Ghosh
HR & Admin Lead
Indira Mukherjee
Service Delivery Lead
Aviraj Saha
DOP, Photography
Myndroot is the right place to define your brand, blended with sheer creativity. Team of enthusiastic people with creative madness always at your service to make your brand "The Brand"
Mr. Sankalan Sau
Myndroot is an innovative, energetic and enthusiastic team of young people who have helped our Brand getting a makeover to make it more modern, Dynamic and refreshing.
Mr. Subir Ghosh
There was a time when I had no idea about what to do when Myndroot enlightened me with a unique idea of branding. It is for them that I got introduced to a new way of evaluating my brand.
Mr. Surojit Kala