In the wildly unpredictable world of advertising, does your current agency make you feel like you're herding cats rather than launching campaigns? Cue MYNDROOT — your full-service, fully-awesome advertising dream team. We're not just an agency; we're a cocktail of brainstormers, doodlers, pixel pushers, code poets, and social media wizards, headquartered in the vibrant Kolkata with tendrils reaching out to the heart of Chandigarh and Zagreb. We've set our sights high, aiming to stand tall amongst India's best ad agencies — not because we're ambitious (well, maybe a little), but because we have a knack for brewing up success stories.
Our magic lies in the power of our diverse team. We can turn a blank page into a canvas of compelling narratives, breathe life into brand strategies, make your website a digital delight, get the SEO spiders in a tizzy, and have influencers chatting up your brand like it's the talk of the town. Need a TV commercial that sticks or a social media campaign that goes viral? We've got you covered. We stay abreast of the latest trends in traditional advertising, social media marketing, e-commerce website development, performance marketing services, and online reputation management. We dive deep into intensive groundwork, arm ourselves with precise case studies, and hatch a meticulously crafted plan for each project. And why do we do all this? To make your brand stand out and shine in this crowded market, come rain or high water.
We believe in the power of creativity — it's our secret sauce, our X-factor. We channel this into producing high-impact strategies and compelling narratives that'll turn heads, win hearts, and carve out a unique space for your brand. With MYNDROOT, get ready to step into the spotlight and bask in the limelight.
Nation Pride Award
Category: Best Digital Marketing Agency 2022
Bengal International Excellence Award (BIEA)
Category: Best Entrepreneur in the field of Creative Agency, 2021
Rotary Club of Calcutta Old City
Creative Partner: Drive Hridaya, Kolkata 2019
Minds Of All Kinds
We're an eclectic mix of seasoned ad gurus and fiery creative whiz-kids; our hands-on experience with an array of products and services has flung wide the gates to the exhilarating roller-coaster ride that is advertising.
Design Thinking
At Myndroot, we hold design principles close to our hearts, yet we firmly believe in breaking the mold. We recognize that design isn't a one-size-fits-all affair; it's about catering to individual needs in this ever-evolving realm of advertising. In our playbook, advertising isn't merely a splash of artistic expression—it's a powerful message making waves.
In-house Click/Click
We have an in-house studio at Myndroot, for photoshoots & an audio-visual set-up along with on-call DOPs, models and other crew members as per the project requirements. 
Rooted in Relationship
Service first is our primary focus and we offer a dedicated service desk & relationship manager for all our clients. 
Speed Is Us
We love deadlines and follow strict TAT for all our project assignments. 
Helping Hands
We also offer support with printing, fabrication, event management, brand collaboration, celebrity management and endorsements, media buying etc., as per the need of the project.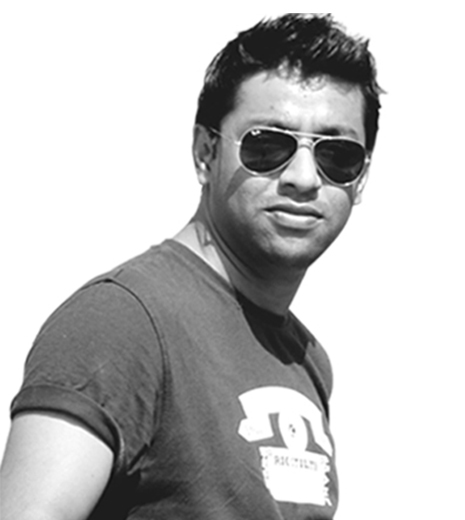 Subhajit Ghosh
Co-Founder & Business Director
Ankit Bhattacharyya
Co-Founder & Creative Director
Mayank Jagwani
Managing Partner
Deb Pratim Das
Brand Manager
Nikola Percic
Business Lead (Croatia)
Tanu Saha Ghosh
HR & Admin Lead
Indira Mukherjee
Service Delivery Lead
Aviraj Saha
DOP, Photography