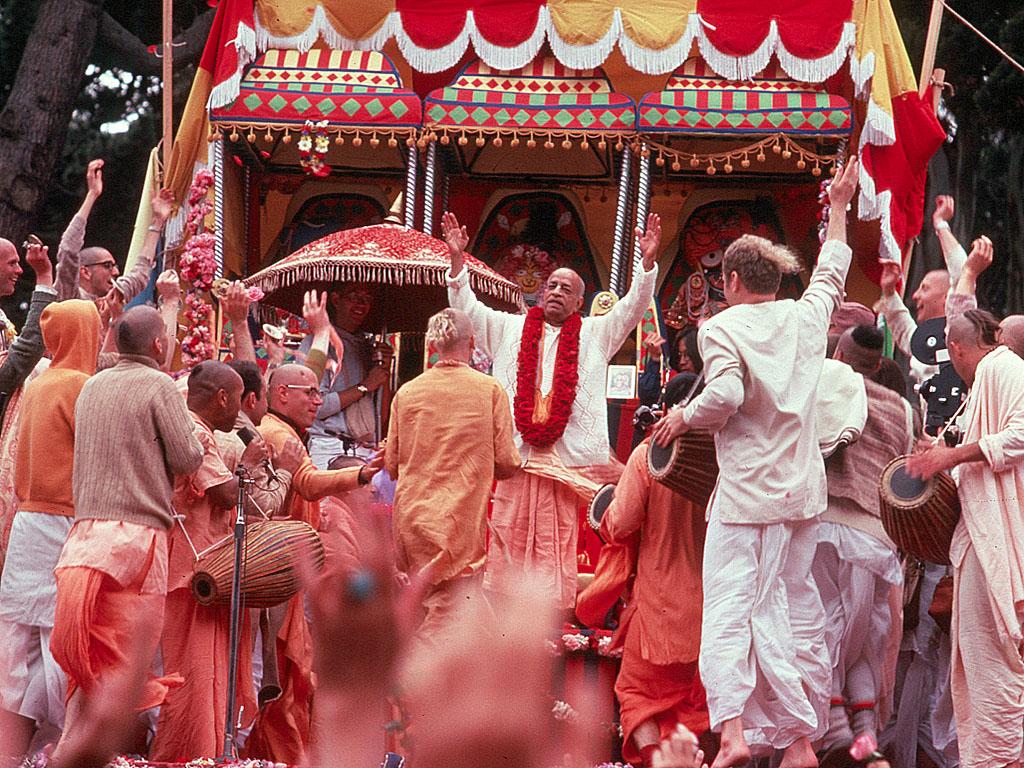 ISKON, Behind the Brand Story!
#IspiringStories #Prabhupada #Strategy
See how this old gentleman still inspires the young brains, specially the so-called non-performers, lazy fellows and aspiring entrepreneurs all over the world. 
You must meet this ordinary man with extraordinary courage. When someone enjoys their retirement, this old fellow had the audacity to think beyond and started establishing the biggest spiritual institution in the world at the age of 70..Can you believe it ??!
He left his family, home off-late and started his journey to USA with just 2 pairs of dresses, 1 umbrella, 1 briefcase, Shrimad Bhagavat Gita, and just 7$ only with zero contacts, no PR and no funding presentation. This is how single-handedly he gave birth to ISKCON (International Society for Krishna Consciousness). 
Now you may think, what is there so special for me to learn from him? Let me tell you everyone can learn so many things from this retired man as a planner or strategist. 
1. He could also start ISKCON while staying in India, then why did he move to US.? Let me tell you it was his path-breaking strategy which we can understand from his bold move. He actually taught us, if you want to start, start big, if you want to target a client, target the bigger one, small ones will automatically fall in place. He was the man who redesigned and repositioned the same desi thought as a global concept and started exporting to other countries, perceived as made in India, made for the world recipe.
2. Start believing in yourself despite all your critics, like he used to face the same from his wife as his biggest & immediate critics and then faced those hippies, those uncontrollable youth in New York during USA, Vietnam War. They were the biggest problem in USA in those days, rejecting all governmental rules and basic lifestyles. Despite all physical and mental tortures, this man stood tall against all odds and transformed those all intolerable people into his dedicated devotees. This was just like converting all the difficulties into a pool of possibilities. 
3. Risk equals to Reward, he proved it again, by leaving home with nothing but a lot of hope, belief and passion for the work that made him the man behind such a renowned multinational institution. 
4. No money, no success, he just reshuffled the idea with pure devotion. Money doesn't deliver success always, but success may bring in more money. This old gentleman simply turned the game literally with zero finance but with a lot of hard work, patience and courage. 
5. When nobody thinks, you think, and then automatically you become the pioneer of that same idea. This is how the ISKCON was born. It's easy to be a CEO, CFO, but it takes a lot of guts to become a founder. This was probably one of India's biggest concept export after the great Swami Vivekananda. 
6. When we talk /pitch to a client it's all about showing the previous credibility, portfolio, and work to the client, and if you already have exposure to the global market, then it's a matter of time to get your deals at your terms as he did with ISKCON with setting up his first unit in New York at 1966 and then slowly opening up in other countries. 
7. Be the Trendsetter, not the follower. Largely as Indians, we do not bother or show any interest in our own culture, language or practices sometimes but once we start seeing the same is been acknowledged & adopted by some other countries or their citizens, then immediately it catches our attention and we start following the same trend. He was among the very few who understood this psychology long ago and converted these simple religious activities into a global movement. He transformed those boring bhajans into soulful music, he re-introduced Rath Yatra Utsav as world-famous on-road singing and dancing festival. He made us believe that vegetarian food can be served and proudly consumed in a fine dining restaurant as he did it with "Govindas". He made religious dresses fashionable, unique and ideal for those who want to stand out in the crowd. 
8. If you are looking to build your distribution or franchise business, then you may consider ISKCON as your classic case study. He founded this institution in New York initially and then added many followers as his devotees, train them, communicates, promote them and then send them to different countries to expand its reach. This is how you may also go global with low investment and a strong foothold in the respective market. 
9. One product with multiple solutions is the key baseline of ISKCON as a brand. Lord Krishna and his ideologies are the essence of this great institution with many teachings such as helping society in many ways as a CSR event, Kirtan as a musical activity, dress codes as fashion makeover, Gita path as engagement activities & Dance as stress relief activities. 
10. He also created ISKCON as one brand, one identity with diverse communication strategies country-wise. This is a perfect example of any big multinational brand and its diverse culture. This is how ISKCON is moving, this is how this great institution is growing.
Now considering all these facts, we all should understand and believe if he can start and succeed at this age, then we all should have infinite potential to explore the unknown and rediscover our capabilities.
Regards, Subhajit Ghosh
Co-Founder & Director | www.myndroot.com